Workers' Compensation Training
Need Workers Compensation Training?
Searching for Workers Compensation training or training to earn your AIC designation? Then you've come to the right place, as we offer several types of Workers Comp training courses, as described below.
State-Specific Workers Comp Training Courses
Generally, state law governs workers compensation, and though each state's system differs in the details, the overall structure and operation of workers comp is similar from state to state. Click you state below to find both available training courses and any requirements for your state.



Workers Comp Training Seminars And Webinars
Listed below are some of our best-selling Workers Comp seminars and webinars. You attend seminars in-person at a specific date, time, and venue. Webinars are available in live, CD, and OnDemand formats.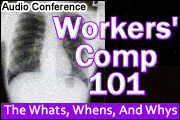 Online Workers Comp Training Courses
The following are online courses you can take anywhere with Internet access: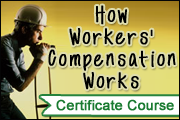 Workers Comp Specialist Designation
Click here to find specifics for State-Specific Workers Comp Specialist Designations
Workers Comp Adjuster Training
TrainingCenter offers several Workers Compensation adjuster training courses for those individuals looking to earn an AIC designation. These include:
Find Other Workers' Compensation Training Courses
Select any of the recommended courses above, or search under "Professional Development" in the search box below for "Workers Compensation". Good luck with your training!
Find Seminars, Webinars, And Online Training In Your Area
Related Links

Claims Training, Alabama Workers' Compensation Training, Alaska Workers' Compensation Training, Arizona Workers' Compensation Training, Arkansas Workers' Compensation Training, California Workers' Compensation Training, Colorado Workers' Compensation Training, Connecticut Workers' Compensation Training, Delaware Workers' Compensation Training, Florida Workers' Compensation Training, Georgia Workers' Compensation Training, Hawaii Workers' Compensation Training, Idaho Workers' Compensation Training, Illinois Workers' Compensation Training, Indiana Workers' Compensation Training, Iowa Workers' Compensation Training, Kansas Workers' Compensation Training, Kentucky Workers' Compensation Training, Louisiana Workers' Compensation Training, Maine Workers' Compensation Training, Maryland Workers' Compensation Training, Massachusetts Workers' Compensation Training, Michigan Workers' Compensation Training, Minnesota Workers' Compensation Training, Mississippi Workers' Compensation Training, Missouri Workers' Compensation Training, Montana Workers' Compensation Training, Nebraska Workers' Compensation Training, Nevada Workers' Compensation Training, New Hampshire Workers' Compensation Training, New Jersey Workers' Compensation Training, New Mexico Workers' Compensation Training, New York Workers' Compensation Training, North Carolina Workers' Compensation Training, North Dakota Workers' Compensation Training, Ohio Workers' Compensation Training, Oklahoma Workers' Compensation Training, Oregon Workers' Compensation Training, Pennsylvania Workers' Compensation Training, Rhode Island Workers' Compensation Training, South Carolina Workers' Compensation Training, South Dakota Workers' Compensation Training, Tennessee Workers' Compensation Training, Texas Workers' Compensation Training, Utah Workers' Compensation Training, Vermont Workers' Compensation Training, Virginia Workers' Compensation Training, Washington Workers' Compensation Training, West Virginia Workers' Compensation Training, Wisconsin Workers' Compensation Training, Wyoming Workers' Compensation Training
Share on Facebook
Share on Twitter