Become a Claims Adjuster!

Searching for adjuster licensing classes or insurance adjuster exam prep courses? Then you've come to the right place!

AB Training Center provides Claims Adjuster training, including in-person classes and online courses for All-Lines Adjuster, Property and Casualty Adjuster, and Workers Compensation Adjuster licenses.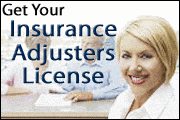 Recommended Adjuster Training Courses

Adjuster licensing is regulated at the state level and, as such, each state government establishes its own adjuster licensing requirements and examination procedures. Requirements for adjuster licensing for each state will be provided on the individual state pages linked below.

To find the right adjuster licensing course for you, simply select your resident state below:






Conversely, you may search under "Licensing" in the search box thereafter for "Insurance - Adjusters".


Also Available: Xactimate Training Courses!

Xactimate is the industry standard software for generating replacement cost estimates. In fact, many insurance carriers mandate its use for their adjusters.

Go to www.ABTrainingCenter.com/Xactimate-Training.asp to view our
Xactimate seminar, webinar, and online training course options available nationwide.


About Becoming A Claims Adjuster Claims adjusters are insurance professionals that handle property, damages, or personal injury claims. Their primary responsibilities include examining claims, negotiating settlements, and approving or rejecting claimant payments. Part of the claims adjuster's responsibility is also to interview law enforcement personnel, medical professionals, witnesses, lawyers, and claimants for the purposes of compiling accident and injury-related information. The information obtained is used to compile a report and to determine how much the settlement amount a claimant is entitled to, if any. In order to become a claims adjuster, candidates should have at least a high school diploma or a GED. Many employers will give preference to applicants with college degrees in the areas of insurance, business, and finance. In most states, an adjuster's license is a requirement for practicing as a claims adjuster. The requirements for the license vary from state to state. Most firms require applicants to have one to five years of relevant experience, although this may vary depending on the specifics of the position. In addition to the academic and professional requirements, prospective claims adjusters are also expected to possess analytical ability, exemplary verbal and written communication skills, interpersonal and customer service experience, mathematics aptitude, and familiarity with word processing, spreadsheets, and appraisal software.
Disclaimer: This information provided is based on state laws and regulations, and is subject to change. While we make every effort to asure this information is current and accurate, it is not engaged in rendering legal or professional advice, and shall not be held responsible for inaccuracies contained herein.